NEWBIES INITIATIVE FINAL TASK || BLOCKCHAIN GAMING
Hello Hivians and Game lovers...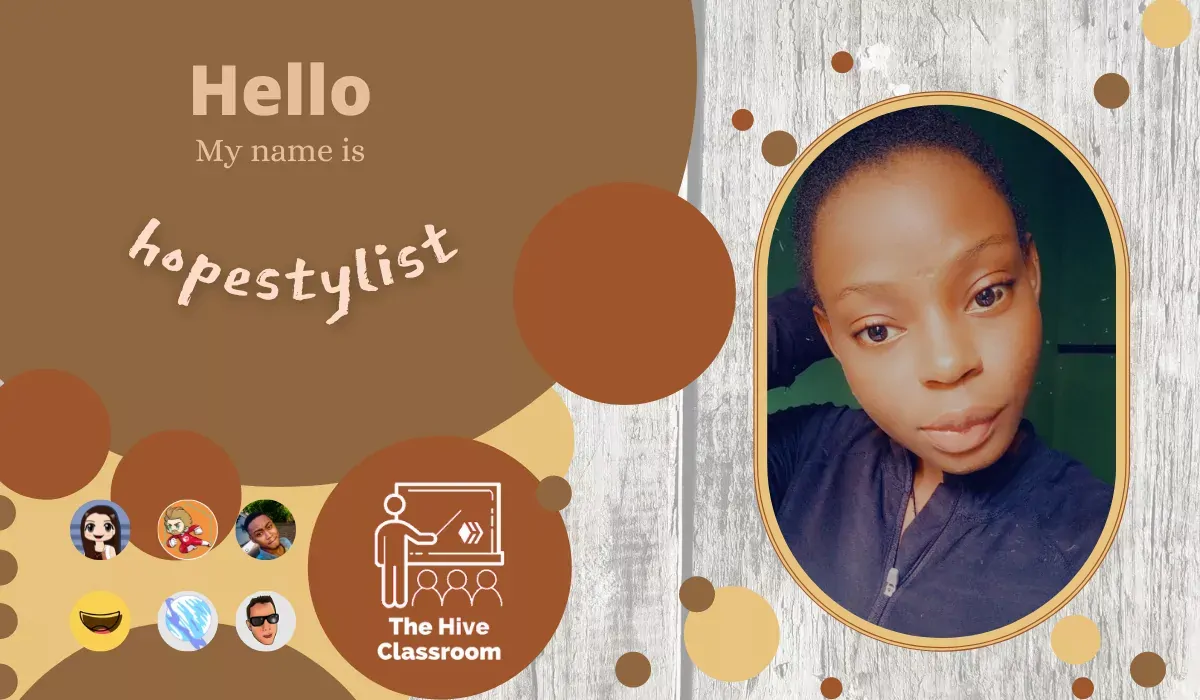 Image by @projectmamabg
Today I will be Sharing with you all what I've learned about blockchain games. I've been hearing and reading so much about blockchain games and I was like, wow, these people are so good at these things and it will be really fun to be part of it. I didn't know our beloved mentor @starstrings01 has even thought of helping us the newbies get acquainted with it. After a beautiful lecture about blockchain games with focus on splinterlands games from @ksam, we the newbies were given a task which also happens to be our last task (I'm having mixed feelings right now 🥺🙂).
So without further ado... Let's move to the business of today.
WHAT ARE BLOCKCHAIN GAMES?
I know that's a question you will love to ask, well simple put, blockchain games are crypto/ NFT games. They are crypto games because you can earn tokens and coins when you play them, while the are NFT games because you use different objects of art to play these games and that makes it an NFT game.
Well, that is my own personal definition just to make you understand it better.
Now, you might want to ask, why should I even play these blockchain games?
There are so many benefits of playing blockchain games;
You play to have fun.

You earn crypto currency that are in the game, remember it's also a crypto game.

You can also earn Non-fungible tokens(NFT).

Note : NFT is not a coin. Also, those tokens and NFTs you earn from the game can be traded in the market space.

EARN AS YOU PLAY
We normally like playing games, whether it's beneficial or not, we just love it because we find it fun. Now in every blockchain game, each has it's own NATIVE TOKEN that you can use to purchase different items to make your game more enjoyable and easy. And these things you purchase to make your game more fun, they are what you refer to as NFTs.
For example, when you play Psyberx game, you earn LVL which is the native token of the game. So if you want to buy any item in the game, you will need the LVL token to do that.
We normally have different games on our phones and each of these games rewards us with coins or objects that we can upgrade to and it makes playing them more fun. But in blockchain games, it's similar but there are some extras.
In blockchain games, these coins you earn are very valuable they are not just mere coins, they worth something more than just using it to upgrade the games, you can actually have access to them if you want. You can trade them in the crypto market space and earn fiat.

Of course you can use them to purchase items (NFTs) in the games.
Note : Since these are also crypto games, so these coins are volatile, they can either rise or fall.
Another blockchain game/ crypto game is the SPLINTERLANDS Game formally known as STEEM MONSTERS. It's native coin is DEC (Dark energy crystals) and just like the native token of psyberx, you can trade them in the Hive engine because these games are built on the Hive blockchain.


IN SUMMARY
You can earn tokens/coins while you play blockchain games and you can use these coins to either purchase items **(NFTs) in the game or you can trade them at the market to earn money. And remember that they are crypto so they are volatile.
EARNING NON-FUNGIBLE TOKENS (NFTS)
NFTs are digital assets that are used to represent things in the real world. They are the items available in a game. In blockchain games, you can earn NFTs and when you earn them, they become your asset and you can use them the way you want, you earned it. The NFTs are basically used to play the games and they make it more fun.

HOW CAN ONE EARN THESE NFTS?

As long as you keep playing these blockchain games, you might be lucky to earn yourself some assets in the game and remember these assets are what we refer to as NFTs.
Another way to earn NFTs is by purchasing them. For instance, if you want a car in a game, all you need to do it's buy one. In blockchain games, you can purchase these items (NFTs) with the native token of the game. Another good thing is, you can get more coins by buying some with your fiat, so you can get as many items as you have need of.
The reason why you can take the risk of converting your fiat to native tokens to purchase NFTs is because, NFTs are value assets in the game and you can earn more when you have the right items. When you have valuable NFTs, you can either sell them or rent them out to earn more money. Now it's very obvious you can also sell your NFTs. You can display them at the showroom in the game where other players go to either buy, rent or sell too.
BLOCKCHAIN GAMES ON HIVE
We are very privileged to have many crypto games here on the Hive blockchain. Some of these games are very active while others are still undergoing development. Since these games are built on the Hive blockchain, it makes it easier for an Hive users to benefit from it first before others.
Examples of some blockchain games on Hive.
PSYBERX
RAGNAROK
GOD'S ONCHAIN
RABONA
SPLINTERLANDS
RISINGSTAR, etc.

A FOCUS ON SPLINTERLANDS

WHAT IS SPLINTERLANDS GAME?
Splinterlands game is a card game which requires you to think very well to win a battle with the enemy. It's indeed an interesting game, it requires you to understand how the cards work, what the symbols represent and all as these things will help you to be either a winner or a loser in the battle.
For the sake of this write-up, I will just look at the seven elements that makes up the cards and they are;
Earth
Fire
Water
Life
Death
Dragon
Neutral (mercenaries).
These are the different sources of magic you can find in the game and different cards fall into any of these elements.
There are also four levels of card rarity and they are;
Common
Rare
Epic
Legendary
Just like the names implies, the common is the least of all of them and the legendary is the most valuable from all of them and the more level you attain, the more chances of you have good wins.

Here is a team I created for my practice.

Splinter (Element) - FIRE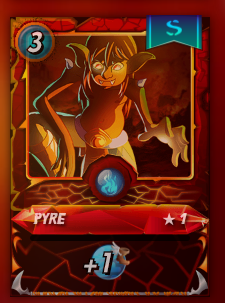 Summoner - PYRE

My monsters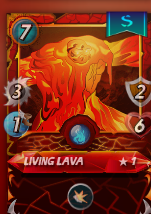 Melee Attack - Living Lava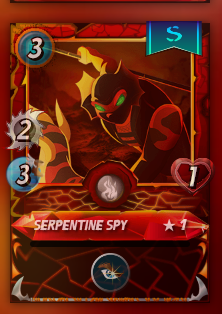 Melee Attack 2 - Serpentine Spy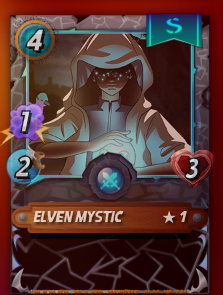 Magic Attack - Elven Mystic (neutral)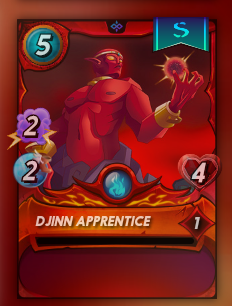 Magic Attack 2 - Djinn Apprentice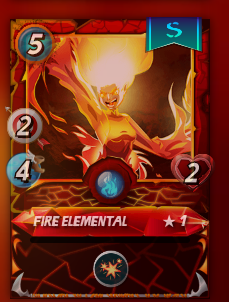 Range Attack - Fire Elemental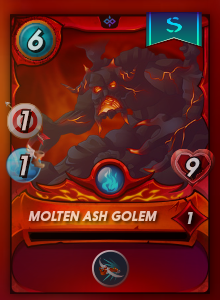 Range Attack 2 - molten Ash Golem

The game was fun but I missed copying the link because I thought I would have another opportunity but I was wrong, here is a link to another battle I fought, I lost this time because I forgot to look what element was coming to battle with me, water came and I used fire, really awful combination if you ask me.
That's all for now, I hope to keep learning how this game works because it's really fun just practicing.

Special Appreciation

I want to use this opportunity to thank @starstrings01 for giving us the newbies such beautiful opportunity to learn and grow with ease, I can't imagine how it would have been without out the newbies initiative, it won't have been this fun and productive. I want to also thank @aliento, @theycallmedan, @projectmamabg for that beautiful badge and @ksam for his wonderful lecture. You guys did a really good job and you guys are part of the reason why I am where I am today, I love you all, so much.
Thank you so much for visiting my blog once again 🙏🙏. Do well to leave your comments, both corrections and contribution.